Ellisville Medical Clinic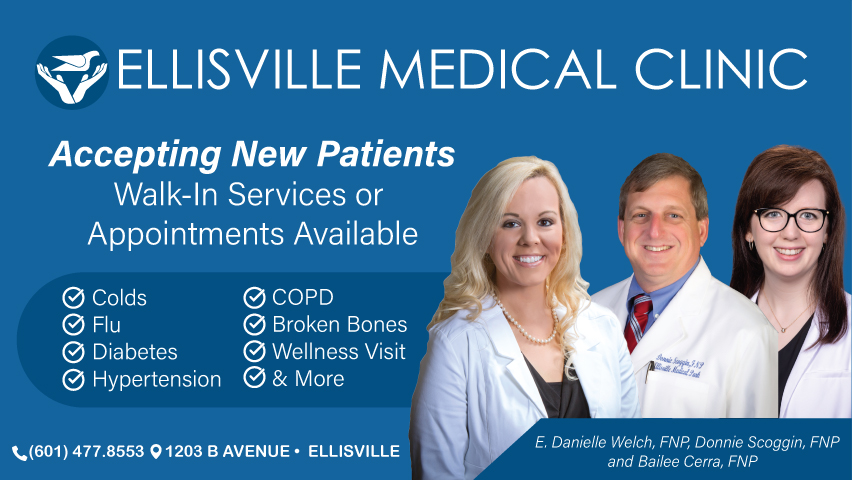 As the leading family medicine clinic in Ellisville, Ellisville Medical Clinic provides walk-in services for colds, flu, minor and sports related injuries and general healthcare needs as well as appointments for those with chronic health conditions such as diabetes, COPD, GERD, hypertension and thyroid related issues. The healthcare team at Ellisville Medical Clinic provides personalized healthcare for the entire family and is open Monday through Friday from 8 a.m. until 5 p.m. Laboratory and digital radiology services are provided onsite. To schedule an appointment, call 601-477-8553.
What is family medicine? Family Medicine provides comprehensive evaluation and care to meet the total health needs of each family member. Family Medicine healthcare providers offer prompt, complete assessment of the patient in their home communities and are able to obtain and coordinate consultation with other specialists when necessary. Family providers receive training in six broad areas of medicine: pediatrics, internal medicine, psychiatry, surgery, obstetrics and gynecology, and community medicine. With the diverse training, these providers are able to offer comprehensive care from infant age child to elderly adult.
The importance of Family Medicine Providers:
Oversee Preventative Care
Experts at Managing Common Complaints
Diagnose Emerging Conditions
Manage Chronic Illnesses
Coordinates Care Between Medical Specialists
Treatment of Acute Care Illnesses
Ellisville Medical Clinic also provides walk-in services for urgent care needs, such as:
Treatment of Colds
Broken Bones
Minor Injuries
Cuts and Bruises
Sports Injuries
Pediatrics
General and School Physicals
Diagnosis and Laboratory X-Rays
Ellisville Medical Clinic is accepting new patients. Medicare, Medicaid, and Most Commercial Insurance Plans are Accepted. Walk-in Services Offered with Appointments Available.
Our providers:
This facility is a clinic owned by South Central Regional Medical Center. Office visits are subject to co-pays. You may also be responsible for co-insurance and deductible for office procedures and ancillary services, such as laboratory services and x-rays when performed.